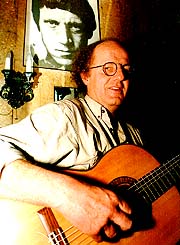 Top: Arts: Jørn Simen Øverli (6)
---
Jørn Simen Øverli translates and sings Vladimir Vysotsky's songs in Norwegian. He's also published few books about Vysotsky.
Sample songs
Webmasters: please link to this page and not directly to the MP3 files (they can change location at any time).
Title
Listen
Russian title
Lyrics
From CD Russlands hus (1996):
På Bolsjom Karetnom
MP3 (2.7MB, 1:55, 192kbps)
Bolshoy Karetny
Norwegian & Russian
Sang om en venn
MP3 (3.3MB, 2:19, 192kbps)
Pesnya o druge
Norwegian & Russian
Hestene mine
MP3 (7.1MB, 5:04, 192kbps)
Koni priveredlivye
Norwegian & Russian
From CD Levende bandasjer (1989):
Han rakk ikke å elske
MP3 (10.1MB, 4:18, 320kbps)
Prervannyj polet
Ingenmannsland
MP3 (4.0MB, 2:49, 192kbps)
Na neitralnoj polose
Norwegian & Russian
Vi dreier jorda
MP3 (4.8MB, 3:25, 192kbps)
My vrashaem Zemlyu
Norwegian & Russian
These CDs can be purchased from Kirkelig Kulturverksted on-line music shop. Text of all songs is included with the CDs.

I can confirm that Jørn Simen sings the songs rather close to the original, both in style/intonation and in content translation. Most songs can be instantly identified by a Russian who doesn't know Norwegian at all. Øverli considers Han rakk ikke å elske to be his best song by Vysotsky in Norwegian.

Audio records ©1989,1996 Kirkelig Kulturverksted.
---
Webmaster
You may Add a comment